Skip to main content
It looks like you're using Internet Explorer 11 or older. This website works best with modern browsers such as the latest versions of Chrome, Firefox, Safari, and Edge. If you continue with this browser, you may see unexpected results.
Words of Wisdom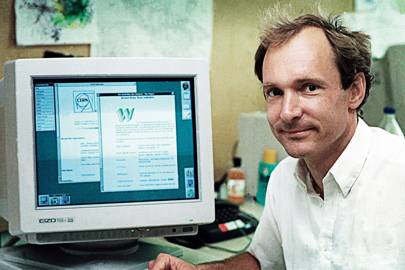 "You affect the world by what you browse."
Sir Tim Berners-Lee
History of the Internet
Experience the history of the web!

Emulators for early web browsers.

Tim O'Reilly & Web 2.0

Tim O'Reilly is the founder and CEO of O'Reilly Media Inc. Considered by many to be the best computer book publisher in the world, O'Reilly Media also hosts conferences on technology topics, including the O'Reilly Open Source Convention, Strata: The Business of Data, the Velocity Conference on Web Performance and Operations, and many others. Tim's blog, the O'Reilly Radar "watches the alpha geeks" to determine emerging technology trends, and serves as a platform for advocacy about issues of importance to the technical community. Tim is also a partner at O'Reilly AlphaTech Ventures, O'Reilly's early stage venture firm, and is on the board of Safari Books Online, PeerJ, Code for America, and Maker Media, which was recently spun out from O'Reilly Media. Maker Media's Maker Faire has been compared to the West Coast Computer Faire, which launched the personal computer revolution.

Data & Society

danah boyd is a Principal Researcher at Microsoft Research, the founder and president of Data & Society, and a Visiting Professor at New York University. Her research is focused on addressing social and cultural inequities by understanding the relationship between technology and society. Her most recent books - "It's Complicated: The Social Lives of Networked Teens" and "Participatory Culture in a Networked Age" - examine the intersection of everyday practices and social media. She is a 2011 Young Global Leader of the World Economic Forum, a member of the Council on Foreign Relations, a Director of both Crisis Text Line and Social Science Research Council, and a Trustee of the National Museum of the American Indian. She received a bachelor's degree in computer science from Brown University, a master's degree from the MIT Media Lab, and a Ph.D in Information from the University of California, Berkeley.
Searching Online Databases
Databases, Records, and Fields

This structure underlies databases.

Olin Library Home Page

The Olin Library website includes a great deal of information and resources. The list of databases and the research guides are full of important resources selected and purchased for the use of Rollins students.
Communication & Mass Media Complete

One of the best places to start your research, this database offers over 40,000 articles on Communications, Mass Communications, Mass Media and everything in between.
Subject Guide
Jonathan Harwell
Contact Info
mwilson@rollins.edu
407-975-6431